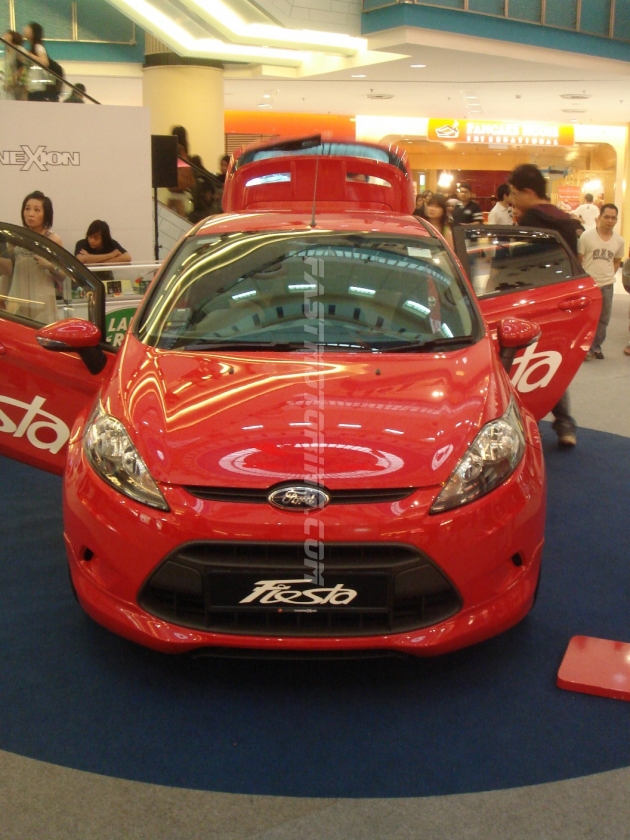 Ford Malaysia has pre-launch their all-new Ford Fiesta which in somewhat coming in 3rd quarter this year. These picture which was taken awhile ago in Sunway Pyramid. This was the first time Ford Fiesta shown to Malaysia in public.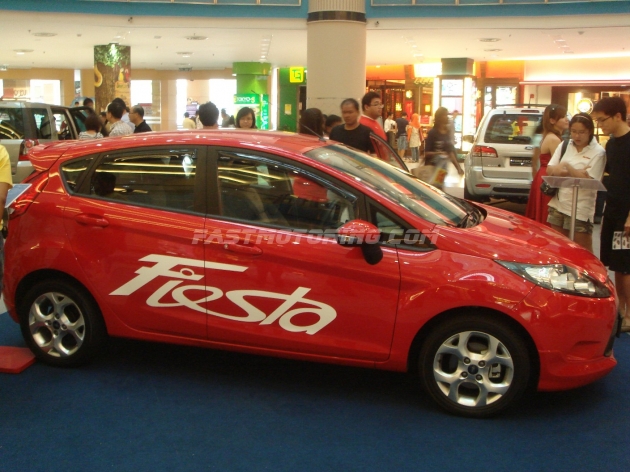 Ford Malaysia decided to show the more sporty Ford Fiesta to Malaysian first. However there will be a sedan version that will be shown later this year. Our sources also told us, there will be another preview of Ford Fiesta tomorrow in 1utama tomorrow 7th April to 11th April – but we are not sure whether the sedan version will be shown too.With a estimate pricing from
RM75,000 to RM85,000
. The Ford Fiesta that will be launch soon here definitely it's an attractive bargain.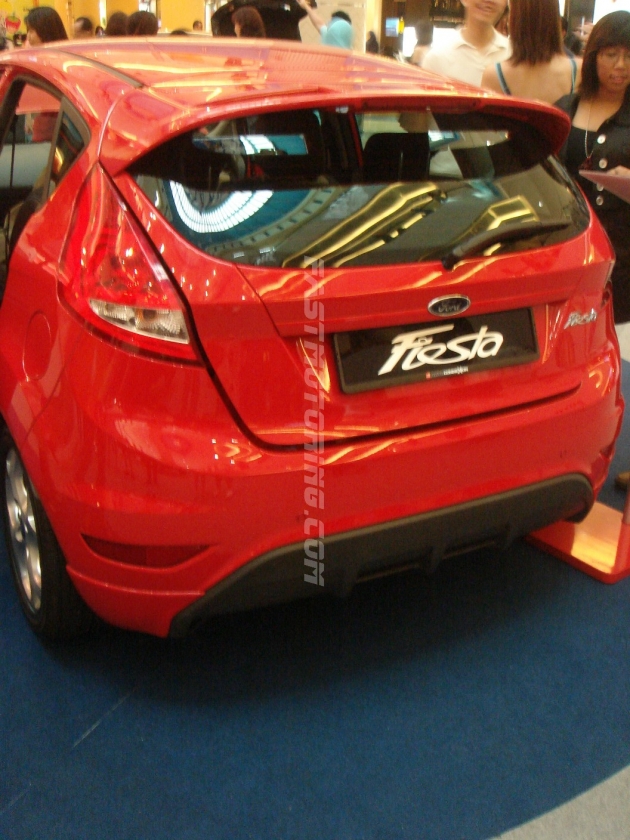 The Ford Fiesta it's fully imported – a CBU ( Complete Built-Up) unit from Thailand. Ford Fiesta Hatchback here as shown, has a few sporty element. While others would call their car as aerodynamically design, Ford would say this Ford Fiesta is Kinetic Design. Do check out the rear diffuser on the bumper and the rear spoiler.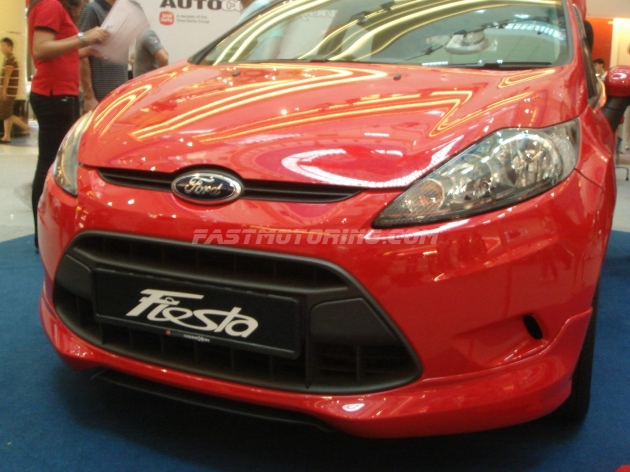 While Mazda choose to go with smiley front fascia, Ford which is closely related to Mazda, decide to go the other way round for the front fascia. You be able to notice there are also a lower spoiler lip for the bumper with bodykit on the Ford Fiesta hatchback. Foglights will be available only on the Ford Fiesta 5-door sport.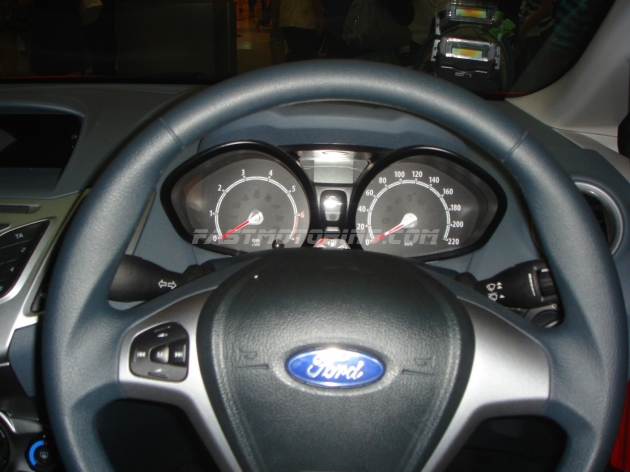 Ford as an American brand, are not so "daring" in terms of designing their cars. In my opinion, their designs somewhat sits between the European design and Japanese designs. There will be 2 air-bags but based on specification it will only be available in the 5 door hatchback version of Ford Fiesta. Steering is not leather but it has standard audio controls.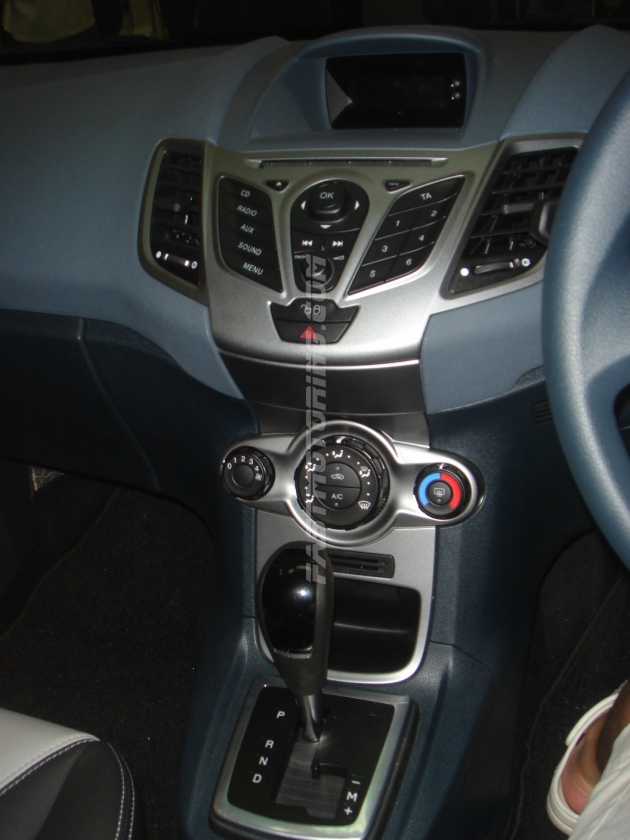 Ford Fiesta comes in 2 engine, a 1.6L Duratec Ti-VCT paired with a 6-speed automatic dual-clutch Powershift and 1.4L Duratec, 5-speed manual. The 1.6 engine produces 120Ps @ 6000rpm
while the 1.4 produces 96Ps. More goodies on the Ford Fiesta hatchback – there will be
USB Connectivity and Bluetooth, only with the hatchback as stated.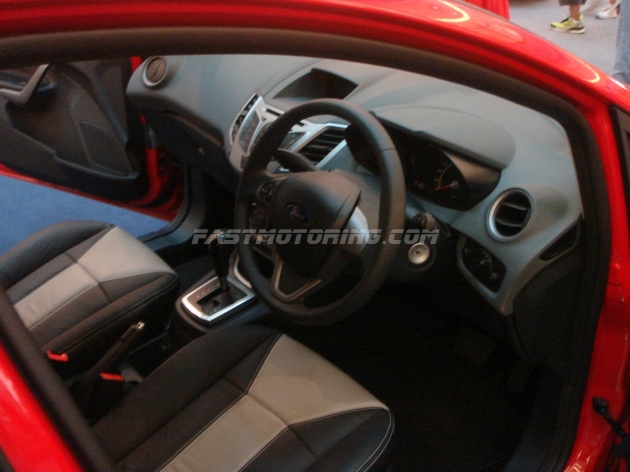 This particular Ford Fiesta unit here it's wrap with leather seats. But based on the estimate spec we receive it will be frabric, our guess is this could be an optional.
The Ford Fiesta comes in front discbrake and rear drum brakes. 15″ rims for the 1.6 sedan and 16″ rims for the 1.6 hatchback. The 1.6 hatchback also comes with sport suspension. Ford Fiesta also comes with ABS (Anti-lock Braking System) and Electronic Brakeforce Distribution (EBD) as standard. While only the top of the range Ford Fiesta Hatchback will receive Electronic Stability Programme (ESP) and Traction Control System (TCS).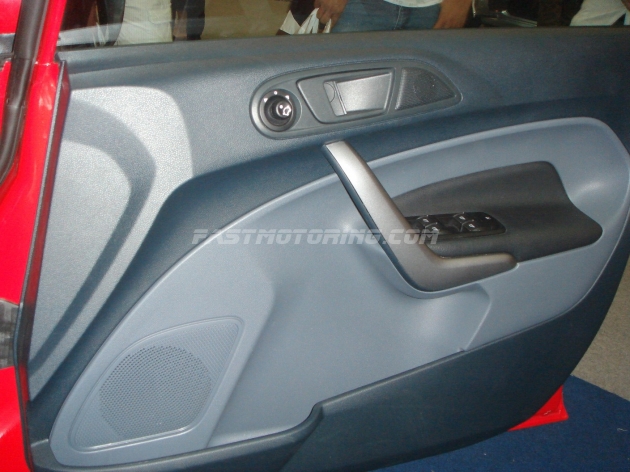 The Ford Fiesta also comes with Electronic Side Mirror control and6 speaker. Notice, that there's a tweeter place in the door handle area, as comment from a fastmotoring fan "normally we don't see other cars put tweeter there".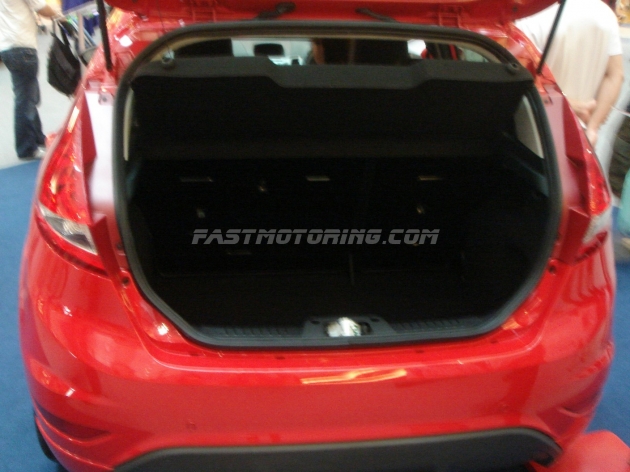 The boot space of the Ford Fiesta hatchback is adequate just like a typical hatchback car.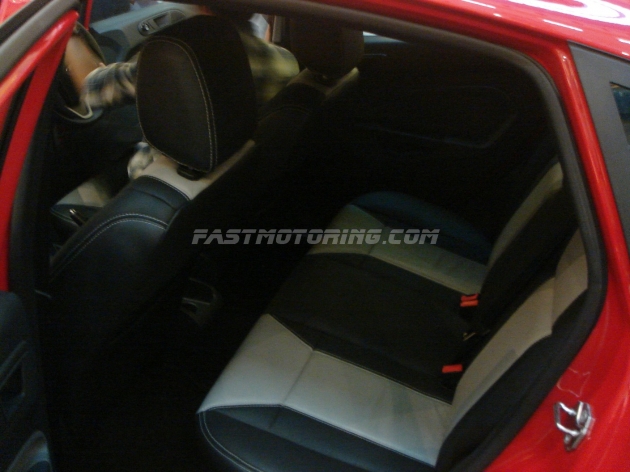 The rear leg room of the Ford Fiesta is decent, much like what we get from the same range of vehicle like Mazda 2,Toyota Yaris.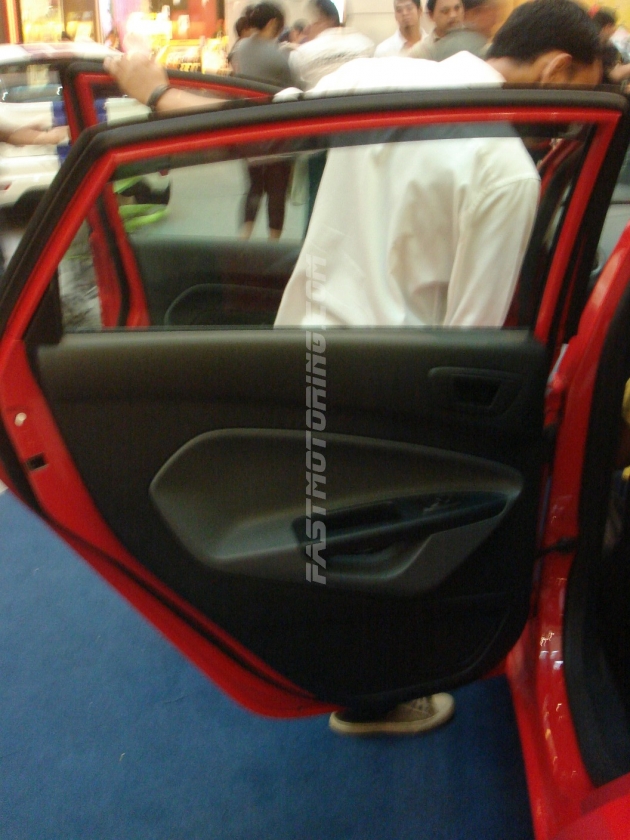 The rear door of the Ford Fiesta hatchback.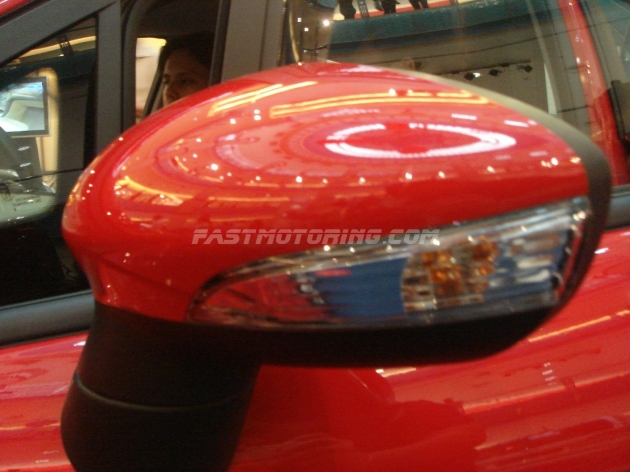 The side mirror is attached on the car door panel.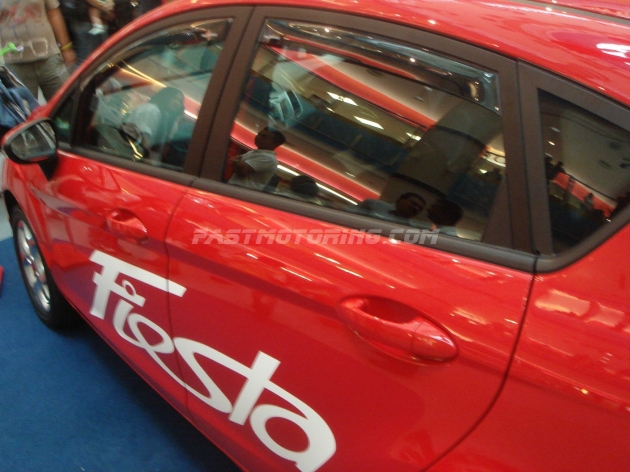 The Ford Fiesta hatchback is attached with door visor.
As overall, we thinks that the Ford Fiesta is a quite a good bargain especially the hatchback version, judging on the specification information we receive. There are much more goodies which is only available in the hatchback version. The Ford Fiesta won many awards from countries all over the world. Many Malaysians would think about the resell value of Ford, however i believe with this Ford Fiesta in Malaysia with such a attractive price, it will at least change of some views.
I apologize for the some of the blurry photos as my usual camera was out of battery. Do check out our gallery below for some of the more detail shots and angle.